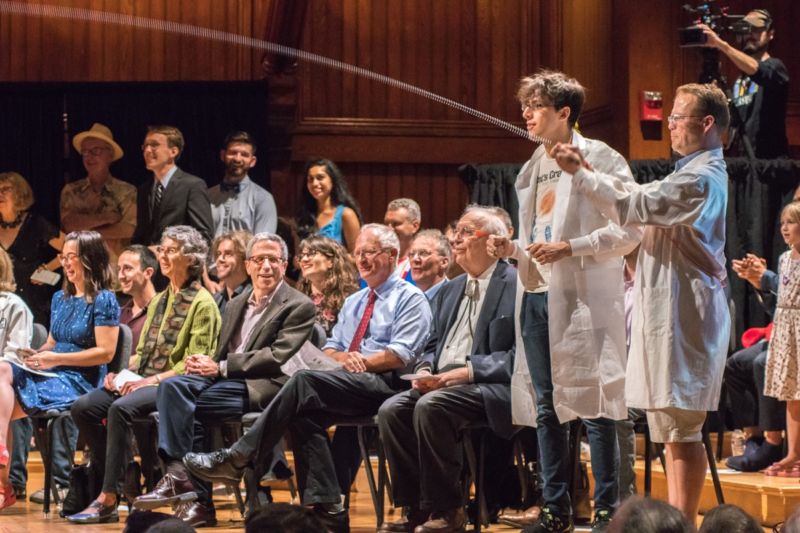 Ever wondered why so many people don't read instruction manuals, or how many calories are in the human body? Or whether stabbing a voodoo doll representing your horrible boss with pins could help reduce workplace tension? The winners of this year's Ig Nobel Prizes have got you covered. These and other unusual research topics were honored tonight in a ceremony at Harvard University's Sanders Theater.
Established in 1991, the Ig Nobels are a good-natured parody of the Nobel Prizes, honoring "achievements that first make people laugh, and then make them think." The prizes have always been perceived as a celebration of scientific silliness, an impression strengthened by the unapologetically campy awards ceremony. The festivities feature mini-operas, scientific demos, and the 24/7 lectures, whereby experts must explain their work twice: once in 24 seconds, and the second in just seven words. Acceptance speeches are limited to 60 seconds, strictly enforced by an eight-year-old girl nicknamed "Miss Sweetie-Poo," who will interrupt those who exceed the time limit by repeating, "Please stop. I'm bored." Until they stop.
It's all in good dorky fun. But there's also a serious side to the Ig Nobels. The research being honored might seem ridiculous at first glance, but that doesn't mean it is devoid of scientific merit. Take the 2006 Ig Nobel for physics, awarded to French researchers for investigating why dry spaghetti often breaks into more than two pieces when it is bent. That work led to a new bendy paintbrush in Adobe Illustrator 5. More importantly, studying how cracks form and spread in various kinds of materials is critical to detecting imminent failure in, say, bridge spans or human bones. Just last month MIT physicists published a follow-up paper. But more people are likely to read about breaking spaghetti than peruse an academic paper entitled "Controlling fracture cascades through twisting and quenching."
Read 25 remaining paragraphs | Comments
Source: http://feeds.arstechnica.com/arstechnica/index/
The Charles Tendell Show aggregates the best content from all over the web. Check out the latest in tech, politics, and more at thecharlestendellshow.com/news. Get your own website added to the feed by contacting us today!