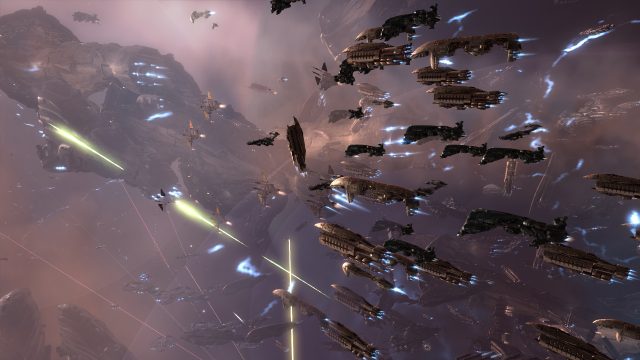 On June 30, 2016, a costly battle took place in Eve: Online. An alliance of players calling themselves the Imperium—assisted by allies in the game's low security region—destroyed four Titan-class ships (the game's largest and most expensive), and inflicted damage worth half a trillion of the in-game currency (ISK) on their enemies in the Money Badger Coalition (MBC). This battle was one of the largest since the so-called Bloodbath of B-R5RB in 2014, which resulted in losses of 11 trillion ISK—worth roughly $300,000 (£228,000) in real-world money.
The Imperium's recent assault on the MBC is hardly a left-field event; Eve players blast the hell out of each other on an almost daily basis. But this battle was special; it took place just days after the MBC declared that they had won once and for all the game's latest large-scale war, with forum posts, fan sites, and Facebook feeds featuring links showing how the Imperium and its allies had been driven back across Eve's map of space. The MBC was gleeful in its declaration of victory in the months-long struggle it had taken to calling "World War Bee;" it was over and MBC had won.
"Our goal was to dismantle the CFC coalition [a looser collection of groups accounting for over 40,000 players, including the Imperium]," says Killah Bee, a fleet commander in Pandemic Legion, which is part of the MBC. "We dismantled the coalition—the only thing left is the Imperium, the others have left—and we freed the north [territories]. That's what we set out to do."
Read 30 remaining paragraphs | Comments
Source: http://feeds.arstechnica.com/arstechnica/index/
The Charles Tendell Show aggregates the best content from all over the web. Check out the latest in tech, politics, and more at thecharlestendellshow.com/news. Get your own website added to the feed by contacting us today!