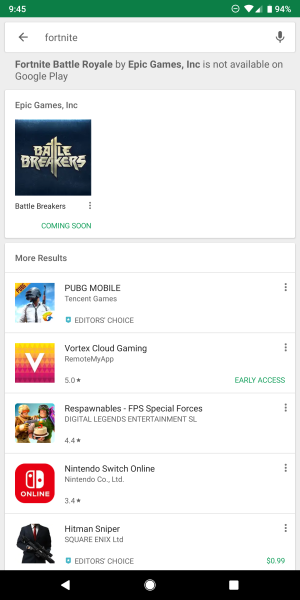 Google is taking special steps to let Google Play users know they can't download Fortnite to their Android device through the centralized app store. When users search for "fortnite" on Google Play, they're now presented with a special message reading "Fortnite Battle Royale by Epic Games, Inc is not available on Google Play."
The message appears to be new and unique to Fortnite searches—looking for other popular titles that aren't available on Google Play and/or Android phones doesn't result in the same warning. The warning also does not appear when searching the Google Play store through a Web browser.
The top result of the "fortnite" search on Google Play remains the competing battle-royale game PUBG Mobile, as it was before Fortnite's Android release. This is likely the result of the algorithmically derived similarity between the games and not a specific, manually inserted dig at Epic's similar game.
Read 3 remaining paragraphs | Comments
Source: http://feeds.arstechnica.com/arstechnica/index/