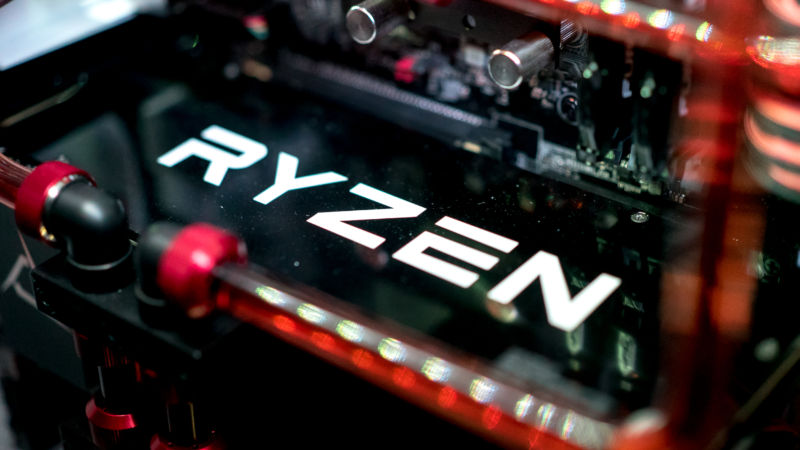 During AMD's "New Horizons" live stream, which served as a coming out party for the Ryzen CPU, the company showcased a brand new performance demo. It pitched a stock Intel Core i7 6900K processor—an eight-core Broadwell-E chip that retails for just shy of £1000/$1100—against an eight-core Ryzen CPU. Both chips were tasked with transcoding a short video clip into the "Apple TV 3" preset in Handbrake, a notoriously CPU-heavy workload that scales well across several cores. The result, according to AMD's demo, was a completion time of 54 seconds for Ryzen and 59 seconds for Broadwell-E; Ryzen was about 10 percent faster.
But the real kicker was that while the Broadwell-E chip ran with its standard boost enabled (up to 3.7GHz), the Ryzen chip was locked at its base clock of 3.4GHz. Not only did AMD claim to have caught up with Intel's multithreaded performance, it claimed to have surpassed it—and with TDP of just 95W compared to Intel's 140W.
Naturally, the Internet cried foul. Flick through the various subreddits dedicated to Zen, AMD, and Intel, and you'll find all manner of conspiracy theories about how AMD artificially capped performance on the 6900K by using a sub-par air cooler (it used the Intel-recommended part), or how there were differences in the video files used in the demo. Not all of these criticisms are without merit, of course. For example, it's not clear whether the Intel chip could have reached its full boost with all cores under heavy load. Or why not just lock the Intel chip at 3.4GHz for a straight IPC (instructions-per-clock) comparison?
Read 17 remaining paragraphs | Comments
Source: http://feeds.arstechnica.com/arstechnica/index/
The Charles Tendell Show aggregates the best content from all over the web. Check out the latest in tech, politics, and more at thecharlestendellshow.com/news. Get your own website added to the feed by contacting us today!