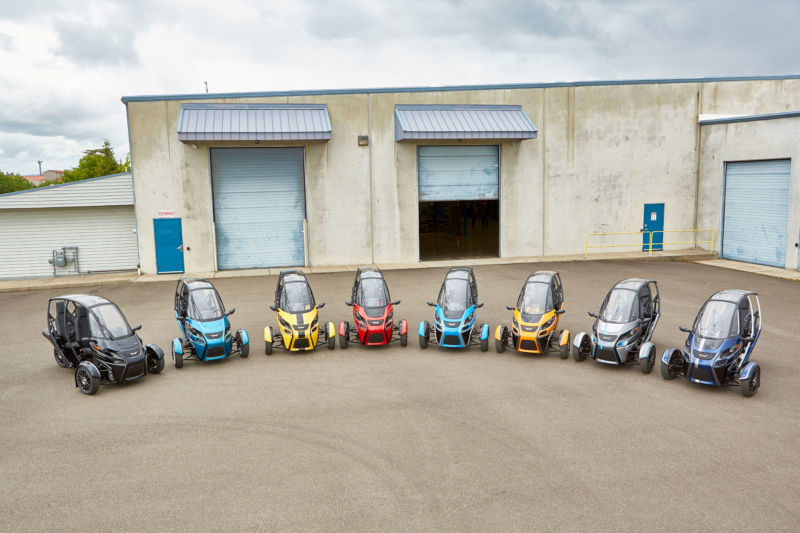 EUGENE, Ore.—It's 2pm on a Saturday afternoon, and Eugene, Oregon is about to witness the (re)launch of its most serious entry in the electric mobility industry to date. Outside of Arcimoto's new factory, located in the sliver of industrial space between the railroad tracks and the increasingly-hip Whiteaker neighborhood, parked cars are starting to line up. Heavily represented are Eugene's automotive stalwarts: Volkswagen diesel wagons, Toyota hybrids, Subaru Outbacks, and a smattering of newer electric cars and quirky vehicles like the Isuzu Vehicross.
The crowd assembled to witness the delivery of Arcimoto's first "Signature" line of three-wheeled "Fun Utility Vehicles" is as classically Eugene as the vehicles they drove here. Aging hippies brush shoulders with middle-aged public radio-supporters, and there's also a mix of more mainstream families and a few younger alternative types—including one performatively circling the parking lot on a OneWheel. Any hope of assessing the prospects of Arcimoto's quirky three-wheeled electric runabout based on the crowd in attendance faded as I realized that this same group could just as easily be on hand to check out the opening of a new microbrewery or outdoor wear store.
This left me back at the problem I was presented with when I accepted an Ars assignment to cover my hometown's "automaker"—how do you judge a three-wheeled electric vehicle that straddles the recreational and practical markets, and is built by a company that has gone through seven previous iterations over its decade-long history? This problem is only amplified by the fact that even the version of the FUV I was recently given access to represents an early "Signature" build. Significant design iterations remain ahead. And even if there were a solid point of reference in the market for the Arcimoto FUV today, it would still be a moving target.
Read 30 remaining paragraphs | Comments
Source: http://feeds.arstechnica.com/arstechnica/index/
The Charles Tendell Show aggregates the best content from all over the web. Check out the latest in tech, politics, and more at thecharlestendellshow.com/news. Get your own website added to the feed by contacting us today!