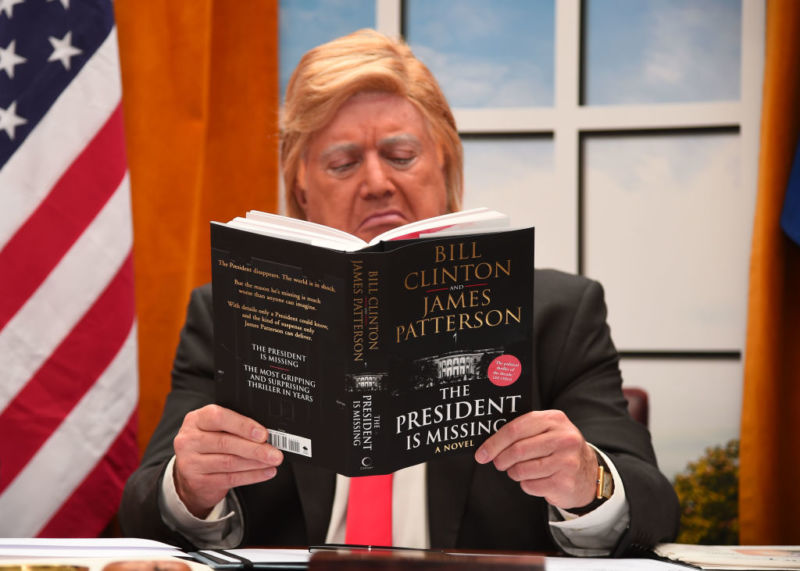 If you hadn't heard, former President William Jefferson Clinton and well-established mass-production author James Patterson have collaborated on a novel titled The President is Missing. The book is a political cyber-thriller of sorts, the second such book from a member of the Clinton family—that is, if you count Hillary Clinton's What Happened as one. And just as with with Ms. Clinton's book, The President is Missing gives shout outs to Russian hacking groups, mentioning Fancy Bear by name.
The President is Missing is, however, a work of fiction. At 513 pages in hardcover, it's slightly slimmer than the recently-released Department of Justice Office of the Inspector General report on the FBI's conduct during the Clinton email investigation, and certainly better paced—with Patterson's trademarked five-to-10 page chapters cutting it up for easy digestion. The prose is largely marked by Patterson's hand as well, but there are places where Clinton's voice pushes through (and not always for the better)—particularly in the passages of first-person narration from the protagonist, President Jon Duncan, which are laden with Democratic talking points and the moral weight of every presidential decision.
The plot, in brief, is this: a Democratic president from a southern state is on the verge of facing an impeachment (sound familiar?) in the midst of a national security crisis. A terrorist mastermind has managed to plant "wiper" malware in every computer in the United States. Racing against time, the president disguises himself, exits the White House through a secret tunnel, and meets in person with the hacker who helped distribute the malware while a crack mercenary hit squad led by a pregnant Bosnian sniper attempts to take the hacker and President Duncan out.
Read 7 remaining paragraphs | Comments
Source: http://feeds.arstechnica.com/arstechnica/index/