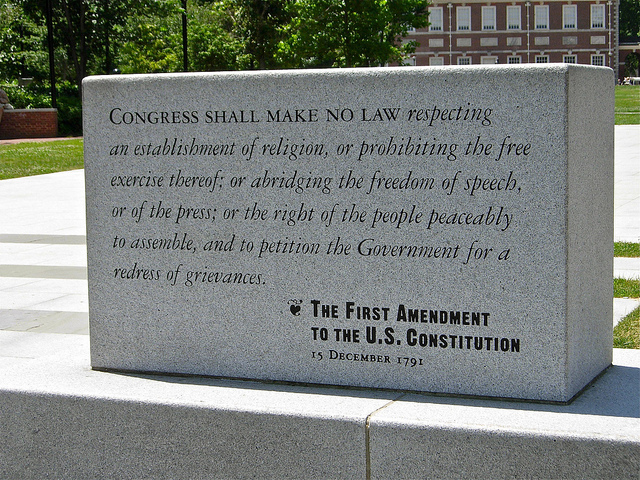 The First Amendment is being put to the test on multiple levels this term before the US Supreme Court. The high court will hear cases about the right to trademark offensive names and whether merchants have a right to inform customers that a credit-card surcharge is actually a surcharge. Two cases involve the free exercise of religion clause of the First Amendment. The first is about whether Missouri breached that clause by supplying recycled tire material for playgrounds to public and secular schools, but not to religious schools. The court has already decided to hear the Missouri case, but it has not decided whether it will consider a request to revive a challenge to Utah's law against polygamy. That lawsuit claims the law is a violation of "religious liberty rights protected by the First Amendment." (PDF) At this stage, however, the justices most likely could decide this case without actually having to weigh in on polygamy or the First Amendment. More on that later.
First up on the docket is Expressions Hair Design v. Schneiderman, which the justices are to argue Tuesday. A law in 10 states forbids merchants from imposing a surcharge on goods paid for via a credit card. Surcharges help merchants recover the so-called "interchange" fees banks charge them for accepting credit cards. Strangely, in those 10 states, merchants may offer "cash" discounts. Either way, the result is the same: people who use credit cards can be charged more.
But how this pricing structure is described to customers is at the heart of the First Amendment battle. The laws require that merchants inform customers that price differences for cash or credit purchases are cash "discounts" and not credit card surcharges. This means merchants are not allowed to charge a base price before tacking on a fee to those using credit cards.
Read 15 remaining paragraphs | Comments
Source: http://feeds.arstechnica.com/arstechnica/index/
The Charles Tendell Show aggregates the best content from all over the web. Check out the latest in tech, politics, and more at thecharlestendellshow.com/news. Get your own website added to the feed by contacting us today!